Vignobles du Soleil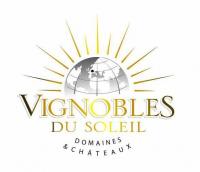 Set on the right bank of the Rhône, a few steps from the historic site of the Pont du Gard, Les Vignobles du Soleil stretches out in a triangle between the famous commune of St Hilaire d'Ozilhan at the heart of that southern slice of land bordering the Gard region and the Côtes du Rhône, then heads westward towards Sommières, to the edge of the Camargue Region.
More about Vignobles du Soleil
Vignobles du Soleil, gathers together wine makers with a love of their land, The Rhône Valley and the Languedoc, and the willingness to create and sustain quality wines.
It is in this spirit that our team of men and women work together, encompassing tradition, and progress while respecting the environment.
Our commitment to quality from the outset had led the recognition within the industry, with features in the Wine Guide published by Hachette, at the Concours General of Paris, in Vinalies, and in industry publications.
We pay homage to the individuality of our wines, by identifying and mastering those characteristics specific to our land, by micro production and sectioning those areas of land that demonstrate potential for quality production.
We honor our undertaking to organic production, while ensuring the protection of the environment, which allows us to offer wines certified as « Terras Vitis ».