Schmitt Söhne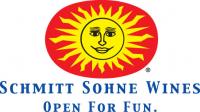 Schmitt Sohne is the world's leading importer of Riesling, the most food-friendly white wine. Our brands range from the serious and traditional to the friendly, fun and whimsical. Whatever your taste, Schmitt Sohne has a wine you'll love.
Experts agree the best Rieslings come from Germany, and at Schmitt Sohne, we have authentic German Rieslings and Riesling blends to suit every taste and budget.
Over 200 years ago, Thomas Schmitt's, President of Schmitt Söhne, ancestors settled in the small village of Lonquich, located along the Mosel River in the Mosel-Saar-Ruwer wine region, and began their involvement in vineyard management and wine production.
In 1919 his Great Grandfather, Hilar Schmitt (1864-1934), founded the parent company as a small regional winery and set forth the philosophy of producing the best wines possible using only top quality grapes from each successive vintage.
Always mindful of his Great Grandfathers philosophy, his winery, which is still located in Longuich, has continued to grow and change through the guidance of three successive generations to become Schmitt Söhne, one of the largest and most successful German wine exporters today.
As in the past, they continue to keep their eye on the future and look for ways to incorporate new technology and techniques into the traditional production of German wines. His successors foresight enable them to carefully incorporate growth, progress, and technical innovations into their long-standing tradition of producing first-class quality wines. The standards originally put forth by his Great Grandfather - to produce the best wines possible using only top quality grapes - have guided his ancestors throughout the winery's growth.
As the 4th generation family member and current President of Schmitt Söhne, Thomas has adopted this philosophy for his company - "top quality grapes, skilful and meticulous production of wines, combined with comprehensible packaging and superior customer service forms the basis for a first class product".