Schloss Vollrads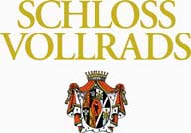 Rich in history, steeped in tradition and perfected over centuries of winemaking. It's the unmistakeable flavors from the world's oldest, continuously-operated winery, Schloss Vollrads. A document in the Mainz City Archives shows that on November 18, 1211, Ruthard Embricho and Heinrich Greiffenclau sold wines from their hometown, Winkel, to the St. Voctor Monastery in Mainz.
Even in the Middle Ages Vollrads wines were a valuable commodity exported to towns along the Lower Rhine and in northern Germany. Then, as now, wines were cultivated on the south facing slopes along the Rhine River that still fan out in a semicircle around the Vollrads Palace.
Today, this long tradition is enhanced by the most modern technical equipment and meticuluous care in the cellars.
The Estate's 150 acres of vineyards are planted exclusively with Riesling grapes, the finest white grape grown in Germany. In order to achieve the highest quality of wine possible, Schloss Vollrads, cultivates Riesling grapes; controls yield through selective pruning; practices ecologically-oriented vineyard management; harvests its grapes late and selectively by hand and allows its wines to develop with as little interference as possible. Our cellar master strives to retain all the grapes' natural aromas, minerals and acids during vinification to produce fruity Riesling wines that reflect their varietal character.
Schloss Vollrads devotes special attention to producing Rielsing wines that refliect the character of the vineyard by exhibiting the natural minerality of the soil that surrounds the estate.