Markus Molitor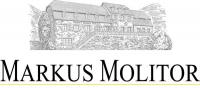 In 1984, at the age of just 20, Markus Molitor assumed responsibility for the parental wine estate, then just 7½ acres. Despite his youth, his vision was very clearly defined and ambitious: to help restore the wines of the Moselle valley to their former glory, with unmistakeable Riesling wines true to their individual vineyard identity (terroir) and of extreme longevity. Precise quality of work both in vineyard and cellar – without any compromises – together with absolute respect for the natural products grape and wine are his guidelines. Each vineyard, each vintage should express itself in taste. He wants his wines to have structure and depth of taste as well as to inspire with the freshness and brilliance typical of the Moselle.
Portrait
The Markus Molitor winery currently holds 38 hectares of vineyard, of which 4,5 hectares are in the Saar region, making it the largest winery on the Middle Mosel. All the attention is focussed exclusively on three noble grape varieties traditionally associated with the Mosel – 95% Riesling, 3% Spätburgunder (Pinot Noir) and 2% Weißburgunder (Pinot Blanc).

Depending on the vintage conditions, annual production varies between 200.000 and 300.000 bottles, of which over 90% are of the 0,75 litre size. In addition, around 20.000 bottles of sparkling wine (Sekt) are produced at the estate.