Franz Keller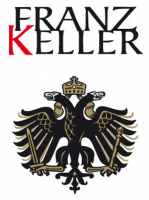 Perfecting the craft of making wines from ripe and healthy grapes is what we always aspire to at Weingut Franz Keller Schwarzen Adler. This goes for the refreshing' everyday wines as well as for the Sunday wines that mature in small and large oak barrels. The white wines from the Oberbergener Bassgeige vineyards are vinified in stainless steel to preserve their lively, filigree character. The fruit flavours of the Spätburgunder (Pinot Noir) from the Bassgeige vineyards are accentuated by the soft tannins imparted by large old oak barrels. These large barrels also give texture and mouthfeel to the fuller and more concentrated white wines like Chardonnay or the Weißburgunder (Pinot Blanc) from our Pulverbuck vineyard. Wines grown on volcanic soils usually mature in new and used barriques, this helps to underline their opulence and fullness. Barriques also have a role to play when it comes to the elegance that is so typical for the French-inspired wines of Weingut Franz Keller Schwarzer Adler.
Initially, everything revolved around gastronomy for the Kellers. To make wines that partner food perfectly has thus always been central to their winemaking. In vineyard and winery, just as in the kitchens of the restaurants, the greatest attention is paid to the raw materials. Only grapes of a select quality – this is our conviction – can go on to develop their own character which speaks of the terroir and the estate.
Ecologically sound viticulture, utilizing organic fertilizers in tune with the needs of the vineyard and the use of green manures to improve soil structure are as fundamental to vineyard work at Weingut Franz Keller Schwarzer Adler as yield reduction by thinning, green harvest and – for the best qualities – halving of bunches.
We insist on harvesting healthy, full-flavored grapes at their optimum state of ripeness. For this reason all grapes are picked by hand and if need be in several successive stages. We deliberately pay attention to this' physiological ripeness of the grapes, it is a much more valid indicator of quality and ripeness than just the sugar (and therefore potential alcohol level) of the grapes. Grapes should not just be sweet, their taste has to be balanced and complex, too, just as the wine later.