Domaine des Pasquiers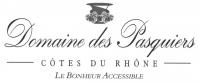 The estate, located in the Vaucluse, benefits from a diversity of soils, appellations with wide reputation such as Gigondas or as a very promising new names such as the recent AOC Plan de Dieu. This diversity gives our area a special uniqueness and provides our wines with rich flavors and complex aromas for your enjoyment.
More about Domaine des Pasquiers
Our estate was founded in 1935 by our grandfather. We are the third generation working on the estate.
The vineyard covers 100 hectares from the terroir of Plan de Dieu in Violès to the feet of "Dentelles de Montmirail" in Sablet, a border town of Gigondas. We are located in the Rhone Valley about 40 kms from Avignon.
The qualities of our terroirs, the eco-friendly culture and our vinification process allow us to produce wines for biggest satisfaction of our customers.
We produce Gigondas, Côtes du Rhône Villages Sablet and Plan de Dieu, Côtes du Rhône and Vin de Pays de Vaucluse. Our wines regularly get awards in several competitions (Orange, Macon, Vignerons Indépendants) and mentions in guide Hachette as well as reviews.
We use traditional grape varieties of the Rhône Valley : grenache, syrah, mourvèdre, cinsault, carignan. As for the vin de pays, merlot and marselan complete our range. Some of our vines are 60 years old.